Benefits of Kapiva 17-in-1 Smoothie Mix:
It contains the goodness of traditional Ayurvedic herbs - Brahmi and Shankhpushpi. Brahmi is rich in antioxidants and is responsible to boost your memory and concentration. Shankhpushpi ensures smooth digestion and also keeps the cognitive functions in check.
The key ingredients of this Smoothie Mix are milk solids which are known to enhance the thickness and consistency of the smoothie.
Nutritious dry fruits like date powder and almond powder in this Smoothie Mix aid in energy-boosting, while Flax seeds extract makes the Mix fibrous in nature.
Enriched with 13 Vitamins and 12 Minerals, this Smoothie Mix supports the overall wellness of the body.
What Makes Kapiva 17-in-1 Smoothie Mix Special:
Our Smoothie Mix offers a wholesome, nutritious combination of 17 ingredients that include Superfoods, Nuts, Ayurvedic herbs and Milk Solids.
While your regular, homemade smoothie would have white sugar, our Smoothie Mix has a healthy combination of Organic Brown Sugar + Stevia.
This Smoothie Mix is made with superfoods and no empty fillers like maltodextrin, stabilizers or emulsifiers are present in it.
Our Smoothie Mix does not contain any added colour, or flavour. Neither does it contain any White Sugar or any artificial preservatives.
Key Ingredients in Kapiva 17-in-1 Smoothie Mix
Brahmi
It is an Ayurvedic herb that is known to improve brain health. It also contains antioxidants which make it a good immunity-booster.
Shankhpushpi
A herb that is popular in Ayurvedic Medicine, Shankhpushpi is a blood purifier. It also boosts memory and improves focus.
Milk Solids
These are powdered forms of milk that contain essential nutrients including lactose, caseins, whey proteins and minerals.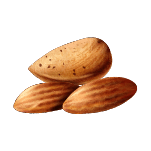 Almonds
Well known to improve brain functions, Almonds are also immunity-boosters. They have properties that can control blood sugar and blood pressure.
Dates
Dates or Khajoor are energy boosters and initiate rejuvenation in the body. They also help in maintaining bone health. 
Flax Seeds Extract
Flax seeds are a great source of Omega-3 and they're fibrous in nature. They are enriched with antioxidants, thus promoting general wellness and keeping our immune system intact.
How to use Kapiva 17-in-1 Smoothie Mix
Take ½ scoop of Kapiva 17-in-1 Smoothie Mix for milk or 1 scoop for water.
Mix it in 200 ml milk or water.
Shake or blend it for better miscibility.
Kapiva 17-in-1 Smoothie Mix 400g | Superfoods, Proteins, Ayurvedic Herbs to support daily holistic wellness
₹719