KAPIVA ASHWAGANDHA CAPSULES 60 CAPS
₹350.00
69 in stock
Get 5% cashback on prepaid orders.
100% natural the Kapiva Ashwagandha Capsules is an effective stress reliever. Owing to its anti-anxiety and anti-stress properties, it curbs the effects of stress hormones and helps revitalize and calms the mind. Further, it plays a vital role in aiding the nervous system that helps improve brain and cognitive functions. Being a natural antioxidant, it also helps boost the immune system. These capsules indeed act as an effective package for your overall health.
Disclaimer: Results may vary from person to person
Free Shipping

Get PAN India free shipping for every order above INR 399

Pay Online

Easy & convenient online payment modes like credit/debit card, Netbanking, and UPI

Natural & Safe

Ayurvedic herbs sourced from their richest locations; GMP-certified & FSSAI-approved products

Money-Back

If you're dissatisfied with our products, reach out to us and we'll refund your money within 30 days.
Benefits Of Kapiva Ashwagandha Capsules
The Kapiva Ashwagandha Capsules works as an effective stress reliever by reducing the levels of stress hormones in the body. This helps in bringing an enhanced feeling of overall wellness.
Ashwagandha helps in supporting the standard energy metabolism in the body and may help reduce thyroid levels. Its antioxidative nature helps curbs the effects of free radicals and strengths immunity.
This herb has a potent effect on the nervous system that in turn aids brain functions and enhances memory.
What Makes Kapiva Ashwagandha Capsules Special?
Made from a powerful ayurvedic herb Ashwagandha that is prominently found in India and North Africa, these capsules are an effective stress buster, stamina, and immunity booster.
Procured from forests, not farms, our capsules are made from organically grown herbs and are 100% natural.
Our product is GMP certified and lab-tested for safety.
Key Ingredients In Kapiva Ashwagandha Capsules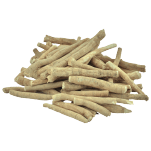 Ashwagandha
An ancient medicinal herb, Ashwagandha has many health benefits. It helps alleviate stress and anxiety and regulates blood sugar levels.
How To Use Kapiva Ashwagandha Capsules?
You can consume 1-2 capsules twice a day or follow the recommended dosage as prescribed by the physician.
KAPIVA ASHWAGANDHA CAPSULES 60 CAPS
₹280
Rated 5.00 out of 5