BENEFITS OF KAPIVA MASALA SUPERGRAIN MIX
Kapiva Masala Supergrain Mix is infused with 3 Ayurvedic herbs namely Ashwagandha, Noni, and Spirulina to give you an instant energy boost.
The power of 4 supergrains ensures taste and nutrition through every bite you take.
It is also a rich source of Vitamin B1, B2, and B3 which are vital for enhancing your energy levels.
Our breakfast porridge has at least 1.5x higher protein and 1.8x more fibre than 100g upma, poha, and oatmeals.
Why Use Kapiva Masala Supergrain Mix
Cut, Pour, and Boil! It's that easy! 3 easy steps in as quick as 3 minutes and your nutritious Ayurvedic breakfast is ready to eat.
The tangy tangy masala flavour will relish your taste buds and make you feel energetic and charged up.
Kapiva Masala Supergrain contains 5.5g protein and 3.7g fibre in every serve that helps you stay full longer.
It does not have any harmful additives or added sugar. Start your morning with an appetizing bowl of this breakfast porridge or make your evening more energetic by consuming this modern nutritious breakfast, whichever you prefer!
Key Ingredients of Kapiva Masala Supergrain Mix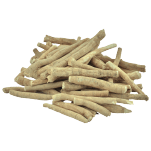 ASHWAGANDHA
Ashwagandha is an ancient Ayurvedic herb that supports energy levels without stimulating the heart. It also has stress combating properties which calms down the mind and body.
NONI
Noni, also known as Indian mulberry is a tropical fruit with multiple health benefits. It is well-known to boost energy levels.
SPIRULINA
Spirulina contains high levels of iron, thus increasing the production of red blood cells that promote the circulation of oxygen and gives an instant energy boost. The antioxidants present in Spirulina are also responsible to invigorate the body.
How to use Kapiva Masala Supergrain Mix
CUT - Open one sachet of Kapiva Masala Supergrain Mix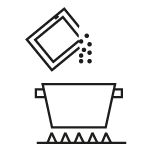 POUR - Empty sachet contents into a pan (for stove) or bowl (for microwave).
BOIL - Add 200ml water and Heat ON STOVE Or ON MICROWAVE at high power for 3 minutes.
Kapiva Masala Supergrain Mix - Energy 380 Gms
₹220