BENEFITS OF KAPIVA MASALA SUPERGRAIN MIX - Weight Management
Kapiva Masala Supergrain Mix is infused with 3 Ayurvedic herbs namely Garcinia, Green Coffee, and Garlic which aid fat loss and ensures effective weight management.
It gives you the benefit of a protein-rich, high-fibre meal from the blend of 4 super grains- oats, moong, amaranth, and ragi.
With each serve of this breakfast porridge, you get Vitamin B1 equivalent to 85 pistas, vitamin B2 equivalent to 6 medium-sized mushrooms, and vitamin B3 equivalent to 125 almonds. It also boosts your metabolism.
Our breakfast porridge has at least 1.4x higher protein and 2x more fibre than 100g upma, poha, and oatmeals.
What Makes Kapiva Masala SuperGrain Mix - Weight Management Special?
Cut, Pour, and Boil! It's that easy! 3 easy steps in as quick as 3 minutes and your nutritious Ayurvedic breakfast is ready to eat.
Who said weight management is boring? Our tasty masala porridge will put these myths to rest. The refreshing mint flavour of Kapiva Masala Supergrain Mix will tantalize your taste buds.
Kapiva Masala Supergrain contains 5.7g protein and 3.8g fibre in every serve. It satiates your hunger pangs and keeps you full for long.
It does not have any harmful additives or added sugar. You can consume it as a morning breakfast or an evening snack, whichever you prefer!
Key Ingredients of Kapiva Masala Supergrain Mix - Weight Management
Garcinia
Garcinia suppresses your appetite and makes you feel full. It also blocks the production of new fat in your body.
Green Coffee
Green coffee beans are helpful in weight management. They are rich in chlorogenic acid which is an effective fat burner.
Garlic
Garlic is low in calories and high in nutrition. The strong taste of this herb adds a punch to your diet and lowers cholesterol.
How to use Kapiva Masala Supergrain Mix - Weight Management
CUT - Open one sachet of Kapiva Masala Supergrain Mix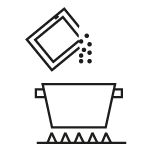 POUR - Empty sachet contents into a pan (for stove) or bowl (for microwave).
BOIL - Add 200ml water and Heat ON STOVE Or ON MICROWAVE at high power for 3 minutes.
Kapiva Masala Supergrain Mix - Weight Management 380 Gms
₹265