Description
Boost your overall wellness with this aromatic, stress-relieving oil
Kapiva Sandalwood Oil is made from the pure sandalwood of Diphu, Assam, by steam distillation through chips and billets. Steam distillation only extracts oil from mature sandalwood roots and the heat used in this process helps kill a lot of unnecessary compounds, resulting in a product of the highest quality. As it contains purely sandalwood, this oil must be mixed with another base oil to maximize its benefits.
Hydrating effect that results in soft and supple skin 

Helps alleviate stress, induces a feeling of relaxation and is effective for aromatherapy

Boosts memory, concentration and focus 

Helps to reduce the effect of acne and other skin disorders 
BENEFITS OF KAPIVA SANDALWOOD OIL
Glowing Skin
Mix with a base oil and apply directly to skin for a glowing, youthful look
Anxiety-Free Life 
Add a few drops of Sandalwood Oil to your lotion or moisturizer
Relax and Rejuvenate
Induce a calm and meditative state by mixing it with a base oil and using it for massages
Antispasmodic Properties
Ease spasms and cramps by adding a few drops to your bath water
WHY KAPIVA SANDALWOOD OIL IS GOOD FOR YOU
Stress Relief 
It is a calming essential oil that helps alleviate unwanted stress and anxiety by keeping your brain cool. It is relaxant in nature, thus easing bodily functions to help reduce physical and mental agitation. It also boosts memory, focus and concentration.
Skin Benefits 
It is an antiseptic agent that helps fight acne, boils and sores. It helps fight infections, soothes the skin, and helps to heal scars and spots. It relieves your skin from inflammation and redness, helping you feel fresh and cool. 
Aromatherapy 
Aromatherapy is a holistic healing treatment that uses natural plant extracts to promote health and well-being. The relaxing and enticing fragrance of this calming oil makes it very useful in aromatherapy treatment, as it helps induce a calm and meditative state.
Anti-ageing Effect
It contains fatty acids that enhance skin tone by helping to get rid of acne scars, lighten blemishes and improve overall skin texture. It also helps reduce lines and wrinkles of ageing, making your skin soft and supple.
HOW TO USE
Take an adequate amount of oil
Dilute it with a carrier oil
The #NoShortcuts Way of Life
We believe that to get the right nutrition, we need to source ingredients from where they're available in their most rich form. We get our ingredients from lesser known, albeit nutritious sources and bring to you a product that is supremely healthy and beneficial for you. We travel the distance to make health and wellness easy for you, because when it comes to your health, we take #NoShortcuts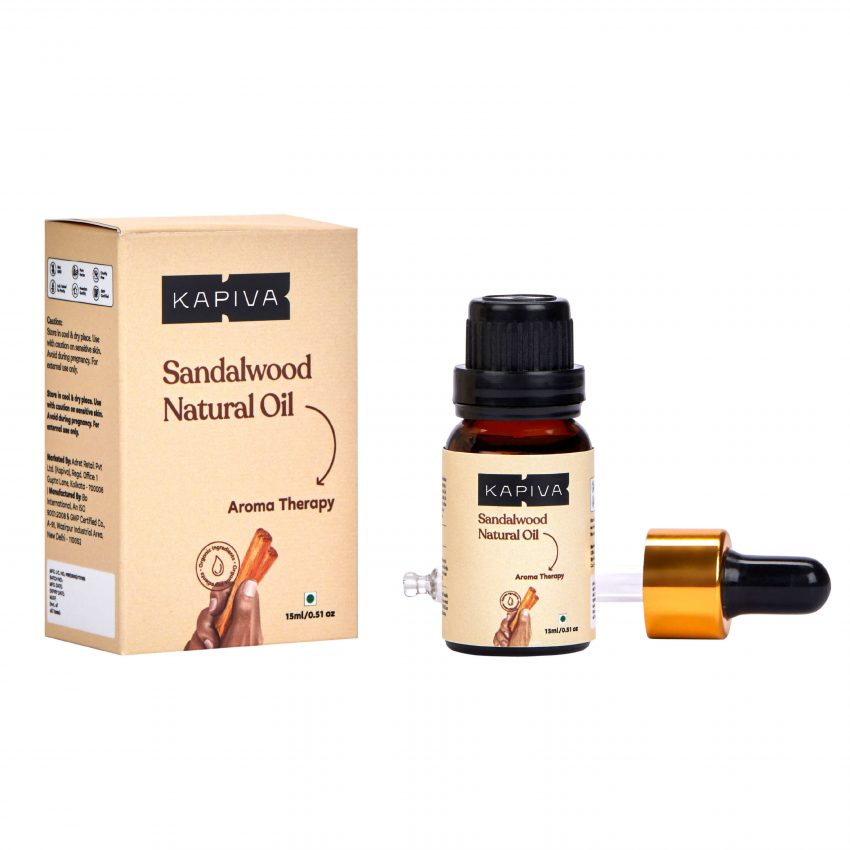 KAPIVA SANDALWOOD OIL 15 ML
₹349