KAPIVA TULSI GILOY POWER COMBO (PACK OF TWO)
₹800.00
Goodbye Cold & Cough. Our Tulsi Giloy Juice combines two of the most beneficial plants indigenous to the Indian subcontinent, Tulsi and Giloy. They are known to treat a wide variety of conditions, especially recurrent fevers
*Disclaimer: Results may vary from person to person.
Free Shipping

Get PAN India free shipping for every order above INR 499

Pay Online

Easy & convenient online payment modes like credit/debit card, Netbanking, and UPI

Natural & Safe

Ayurvedic herbs sourced from their richest locations; GMP-certified & FSSAI-approved products

Money-Back

If you're dissatisfied with our products, reach out to us and we'll refund your money within 30 days.
Description
Offer Valid For Limited Period Only!
A combination of two of the most beneficial plants indigenous to the Indian subcontinent
Kapiva Tulsi Giloy Juice is extracted from fresh Tulsi leaves and Neem-Grown Giloy. It contains no added sugar, flavour or colour. These two herbs have a wide array of health and wellness benefits when consumed individually – together, they are even more beneficial. We take great care to handpick the herbs and bring you a high-quality product that will have a positive impact on your health. 
Helps alleviate the symptoms of fever and other viral infections

Helps relieve headaches and pain in joints and muscles 

Supports digestive processes and helps regulate blood sugar levels

Boosts immunity and protects against cold and cough 
BENEFITS OF KAPIVA TULSI GILOY JUICE
Protects Against Fever
Consume 30 ML Tulsi Giloy Juice mixed with a glass of water daily
Fights Respiratory Problems 
Get creative and add it to your favorite fruit/vegetable smoothie
Helps Regulate Blood Pressure 
Add 20 ML Tulsi Giloy Juice and 40 ML Karela Juice to a glass of water 
Supports Metabolism 
Mix Tulsi Giloy Juice with vinegar, olive oil and spices to use as a homemade salad dressing 
WHY KAPIVA TULSI GILOY JUICE IS GOOD FOR YOU
Boosts Immunity 
It is a powerhouse of antioxidants which fight free-radicals, keep your cells healthy and help get rid of common infections. It helps flush out toxins, purify blood and fight bacteria that cause diseases. It also reduces the symptoms of fever and other infections.
Improved Digestion
It facilitates healthy liver function, which is a must for improving digestive health. It also helps in improving metabolism and helps with the breakdown of foods and absorption of nutrients. It also helps regulate blood sugar levels. 
Dental Care 
It helps to destroy the bacteria that are responsible for dental cavities, plaque, tartar, and bad breath, while also protecting the teeth. Its Tulsi content helps by acting as a mouth freshener; consume this Juice regularly and become more confident in your smile!
Stress Relief 
It helps reduce stress as well as anxiety. It helps get rid of toxins, boosts the memory and calms you down. Its anti-inflammatory properties help ease up your stiffened joints and muscles and make your entire body feel relaxed.
HOW TO USE
Mix 30 ML of Tulsi Giloy Juice in a glass of water
Add sugar/honey/salt to your liking
Consume twice daily before meals
KEY INGREDIENTS IN KAPIVA TULSI GILOY JUICE
TULSI Tulsi, also called 'holy basil' is a green leafy plant that can be used as a treatment for many conditions, from eye diseases to ringworm.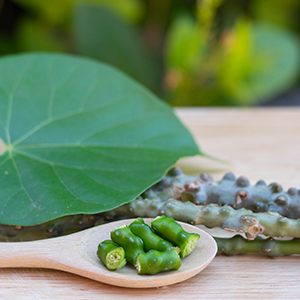 GILOY Giloy, also known as Guduchi is an Ayurvedic creeper plant/herb which has anti-inflammatory properties
KAPIVA TULSI GILOY POWER COMBO (PACK OF TWO)
₹640
Rated 4.60 out of 5