Benefits of Sattva Gift Hamper
High-fiber, protein-rich, and low in calories, weight management can become easier by using these products in your daily fitness regime.
Regular consumption of products such as Immune Care Juice, honey, and Organic Ghee can help you build a robust immunity.
Pop up biotin or multivitamin gummies for a nutritional boost whenever you're on the go.
The Virgin Coconut oil acts as a good dietary supplement whereas Organic Apple Cider Vinegar aids metabolism and strengthens your gut health.
Why Kapiva Sattva Gift Hamper if Good for You?
The raw ingredients used in these products are sourced from the purest places. You can be assured of the purity and authenticity of the products.
From immunity boosting herbal juice to on-the-go multivitamin gummies, the Kapiva Sattva gift box is a power-pack to unlock holistic wellness.
Give up the conventional sweet box and opt for the Kapiva Sattva Gift Hamper, a gift box that oozes love and best wishes.
All the products in this gift hamper are GMP-certified and FSSAI-approved.
Key Ingredients in Kapiva Sattva Gift Hamper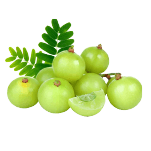 Amla
Amla is a rich source of Vitamin C. 

It helps in boosting immunity and works as a great detoxifier.
Apple Cider Vinegar
Apple Cider Vinegar is made from fermented apple juice.

It helps in weight management and lowers blood sugar and cholesterol levels.
Garcinia
Garcinia Indica, commonly known as kokum, is an important Ayurvedic fruit.

It is enriched with antioxidants and aids digestion.
Boswellia
Boswellia, also known as Indian frankincense is a resin extract from the Boswellia herb.

It acts as an effective painkiller as it has anti-inflammatory properties.
Honey
Honey has been used extensively in Ayurveda.

It is a good source of antioxidants and has antibacterial properties.
Ashwagandha
An ancient Ayurvedic herb, Ashwagandha has stress-relieving properties.

It is also anti-inflammatory in nature.
How to use Sattva Gift Hamper?
Add a dollop of Kapiva Organic Ghee to your meals to balance out the fat requirement of your body.
Consume the low-calorie and protein-rich Kapiva Slim Shake during breakfast or in between meals.
Sprinkle some organic Apple Cider Vinegar to your salads and make them healthier. Whenever you have to rush through your routine, pop in some multivitamin gummies and fulfill your vitamin intake.
Sattva- Gift of Modern Ayurveda
₹2399