Description
A unique blend of Nature's most powerful aphrodisiacs – Shilajeet, Kaunch Beej, Shatavari and Safed Musli!
Kapiva Sexual Wellness Combo contains potent reinforcers of sexual wellness. The herbs have been around since aeons, having clearly stood the test of time. Up your stamina and vitality with this potent mix. The herbs used in this combo are aphrodisiacs which boost sexual performance.
Kapiva Vigor Max Juice is a combination of 7 potent herbs like Ashwagandha, Safed Musli and Kaunch which help to raise the libido and testosterone levels, revitalizing the natural balance of hormones in the male body.
Kapiva Aloe+Shilajeet Juice is one of a kind. Shilajeet is a natural mineral found in the Himalayas during summer months. It rejuvenates and cleanses the urinary tract as well as the lungs, while bolstering strength and supporting the immune system. All this and more on why it should be your go-to morning tonic!
Sexual dysfunctions like premature ejaculation, erectile dysfunction, infertility, impotency can be addressed using this combo. Acquired through extensive, natural methodologies, these juices come together to provide all-round support for sexual wellness. Switch to natural solutions to give the vigorous boost to your sexual health.
BENEFITS OF KAPIVA SEXUAL WELLNESS COMBO
Rejuvenates the Reproductive System
This combination is known to increase fertility in men by boosting the overall sperm count and motility. In oriental medicines of Asian countries, Shilajeet is regarded as a potent aphrodisiac which is used to treat male sexual dysfunction. It has been reported that it increases serum testosterone level and sperm count in male human.
Detoxifies the Urinary Tract
This combo corrects and restores natural urination process, helping combat frequent urination. It aids in alleviating various urinary problems such as painful urination, cystitis, stones and incontinence. These ancient Ayurvedic herbs are also powerful diuretics which boost kidney and bladder activity, purify toxins and cut out water retention in the tissues.
Helps Control Premature Ejaculation
Kapiva Sexual Combo is an Ayurvedic herbal supplement with excellent aphrodisiac properties.  It's an effective solution for premature ejaculation. This powerful natural supplement has been used since ancient times to enhance sexual performance.
Anti-ageing Properties
The Combo juices help promote healthy skin. Being a restorative herbal remedy, the combo rejuvenates vital body organs and helps in damage repair. The death and decay of cells are prevented, the ageing process is controlled – all in a natural way. It helps bring back the youthful gloss and glamour.
HOW TO USE
VIGOR MAX JUICE - Consume 30ml of the juice twice a day, once before breakfast on an empty stomach, and once at night an hour before dinner.
ALOE+SHILAJEET JUICE - Consume 30ml with one glass of water, on an empty stomach, in the morning.
KEY INGREDIENTS IN KAPIVA SEXUAL WELLNESS COMBO
SAFED MUSLI - It is a potent aphrodisiac and strong adaptogenic herb effective in improving male performance and spermatogenesis.
SHILAJEET - Procured from the rocks in high mountain ranges, Shilajeet boosts fertility in men.
ASHWAGANDHA - A form of alternative medicine based on Indian principles of natural healing, Ashwagandha has been in use for over 3,000 years to relieve stress, increase energy levels, and improve concentration.
KAUNCH - Found in bushes and hedges, Kaunch Beej or Mucuna seeds are powerful aphrodisiacs.
The #NoShortcuts Way of Life
We believe that to get the right nutrition, we need to source ingredients from where they're available in their most rich form. We get our ingredients from lesser known, albeit nutritious sources and bring to you a product that is supremely healthy and beneficial for you. We travel the distance to make health and wellness easy for you, because when it comes to your health, we take #NoShortcuts.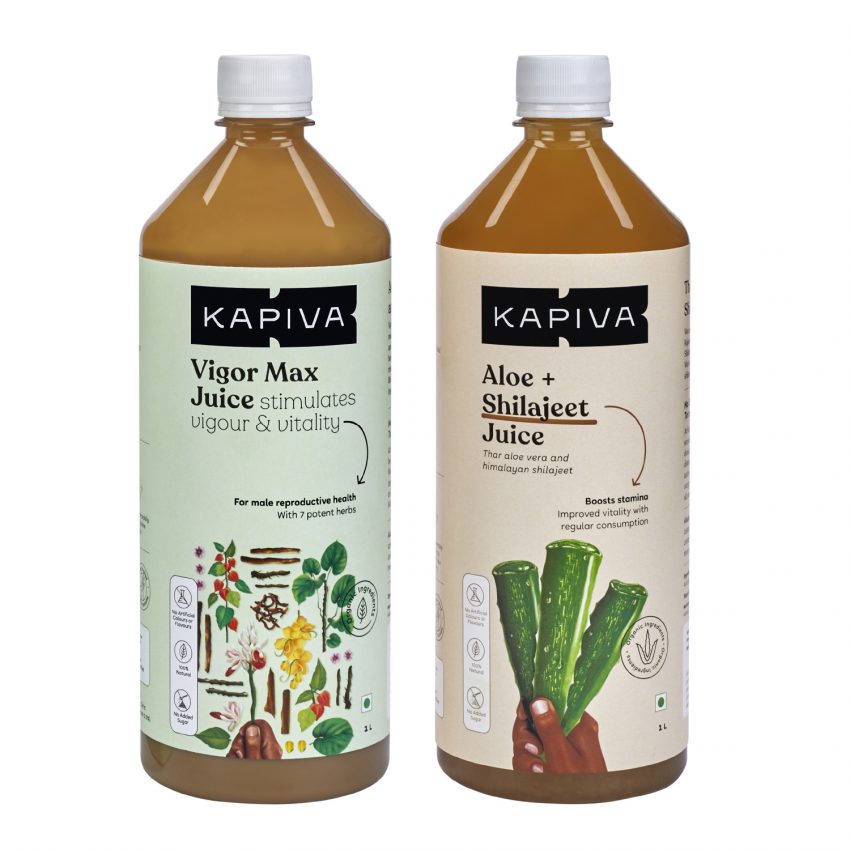 KAPIVA SEXUAL WELLNESS COMBO - ALOE+SHILAJEET JUICE 1L + VIGOR MAX JUICE 1L
₹880