Description
A unique blend of the classic Ayurvedic trilogy like Amlaki, Haritaki and Bahera, this Churna is your answer to all your digestive ailments.
Made from the most potent digestive solution, this Churna brings together everyday ingredients and age-old Ayurvedic herbs to curate an effective solution for constipation and other gastrointestinal difficulties. Triphala Churna is a reputed Ayurvedic medicine that is claimed to have anti-bacterial and anti-inflammatory properties.
BENEFITS OF KAPIVA TRIPHALA CHURNA
Improves Digestive Function
It helps support bowel movements and works as a mild laxative.
Controls Constipation
People with digestive problems or bowel movement issues can have one spoon Triphala before going to bed at night. You can also take a spoon early morning on an empty stomach with loads of water to bid farewell to bloating, fussy stomach, or even diarrhoea.
Improves Eyesight
This churna is a potent eye tonic that will keep your eyes healthy and vision sharp. It also helps keep eye infections away.
Improves Blood Circulation
Consuming this churna every day helps stimulate and improve blood circulation. It improves and increases the blood flow in the capillaries. It also increases the count of the red blood cells in the blood.
WHY KAPIVA TRIPHALA CHURNA IS GOOD FOR YOU
Reduce Inflammation
The regular consumption of Triphala Churna helps reduce internal and external inflammation, which one might have due to poor immunity or lack of nutrients in the body
Aids Weight Loss
This Churna helps in the removal of excess fat from the body, especially around the belly. It also helps flush out harmful toxins and excess fat present in the body. This can help lower the risk of contracting potentially fatal conditions.
Relieves Joint Pain
Triphala Churna exhibits anti-inflammatory characteristics, thus providing relief from gout, joint pain, arthritis, and other problems. It provides nutrients that help strengthen your bones and flush out excess uric acid, which can lead to inflammation.
Regulates Blood Pressure
Triphala Churna has blood pressure regulating properties. It promotes better blood flow and keeps the cholesterol levels in check. It also contains essential fatty acids like linoleic acid, which helps lower blood pressure and prevents heart problems. Its antispasmodic properties reduce the risk of blood pressure spikes.
HOW TO USE
Take1 spoon of Kapiva Triphala Churna
Consume it everyday, after dinner
KKEY INGREDIENTS IN KAPIVA TRIPHALA CHURNA
AMLAKI- Amla, also known as the Indian Gooseberry, is a rich source of Vitamin C. Our products are made from ripe, yellow Amlas which are considered to be more nutritous than the green Amlas.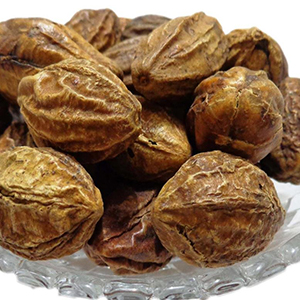 HARITAKI- A drupe-like fruit, Haritaki is known as the king of medicines as it helps with digestion and other gastrointestinal problems.
BAHERA- Bahera is a large deciduous tree common on plains and lower hills known to help with flu and other viral infections.
Consisting of the power union of the reputed Ayurvedic herbs, Triphala Churna is an easy getaway for all your digestive ailments. It works as a mild laxative and keeps major gastro-intestinal issues at bay, thereby keeping the Ama (toxins) of the body at rest, which according to Ayurveda is considered to be the major reason for all health-related issues.
Triphala Churna 200gm
₹300