BENEFITS OF KAPIVA TULSI GILOY GREEN TEA
The tea leaves are infused with immunity-boosting herbs such as Tulsi and Giloy to power up your body's defences.
Tulsi is a well-known antimicrobial and antibiotic that helps remedy infections.
Giloy helps release toxins, purifies the blood and supports digestion.
Green Tea is a rich source of antioxidants that help curb the harmful effects of free radicals on cells and maintain overall good health.
WHAT MAKES KAPIVA TULSI GILOY GREEN TEA SPECIAL?
The Kapiva Tulsi Giloy Green Tea is a composition of 73% green tea leaves and 27% Ayurvedic herbs for optimal benefits. It supports your overall good health.
Our whole leaves are handpicked with great care from the tea gardens of Assam and infused with Ayurvedic herbs to yield maximum nutrition.
Whole leaves are fresh, aromatic and healthier. When infused with herbs, these leaves ooze an enriching aroma and flavour thereby elevating your tea drinking experience.
Made from 100% natural ingredients our product contains no added preservatives.
Key Ingredients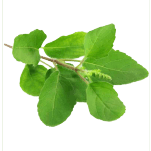 Tulsi
Tulsi is also called Holy Basil and can alleviate infections and allergies.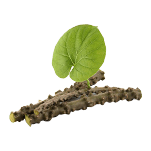 Giloy
Also known as Guduchi, Giloy is an Ayurvedic creeper. It helps boost immunity, treats fever and aids digestion.
HOW TO USE KAPIVA TULSI GILOY GREEN TEA?
Add 1 tsp (2g) of tea to a cup of boiling water (180ml).
Add sugar or milk if required & continue to boil.
Strain the leaves and serve hot. Add sugar or honey as per taste.
Tulsi Giloy Green Tea | 100 gms
₹425